Welcome To
Vaughan Insurance Agency, Inc.
A tradition of excellence since 1901.  We are your partners in today and tomorrow.  You keep building the life you want.  And we'll protect it.
Vaughan Insurance Agency promises to go above and beyond for our customers.  We understand that searching for an insurance policy, whether it be for personal auto or commercial services, can be a daunting experience.  Insurance agents can toss around terms that confuse, more than educate.  Our team provides insurance counseling with great patience.
We want to make sure that you understand the options, what you are getting and what you can expect from us.  With Vaughan Insurance Agency, there are no 800 numbers leading to people you will never meet.  You talk to us when you call, you deal with us, you can even come into the office and handle your business in-house.  We are here from 9-5 Monday through Friday and will take your emergency calls after hours.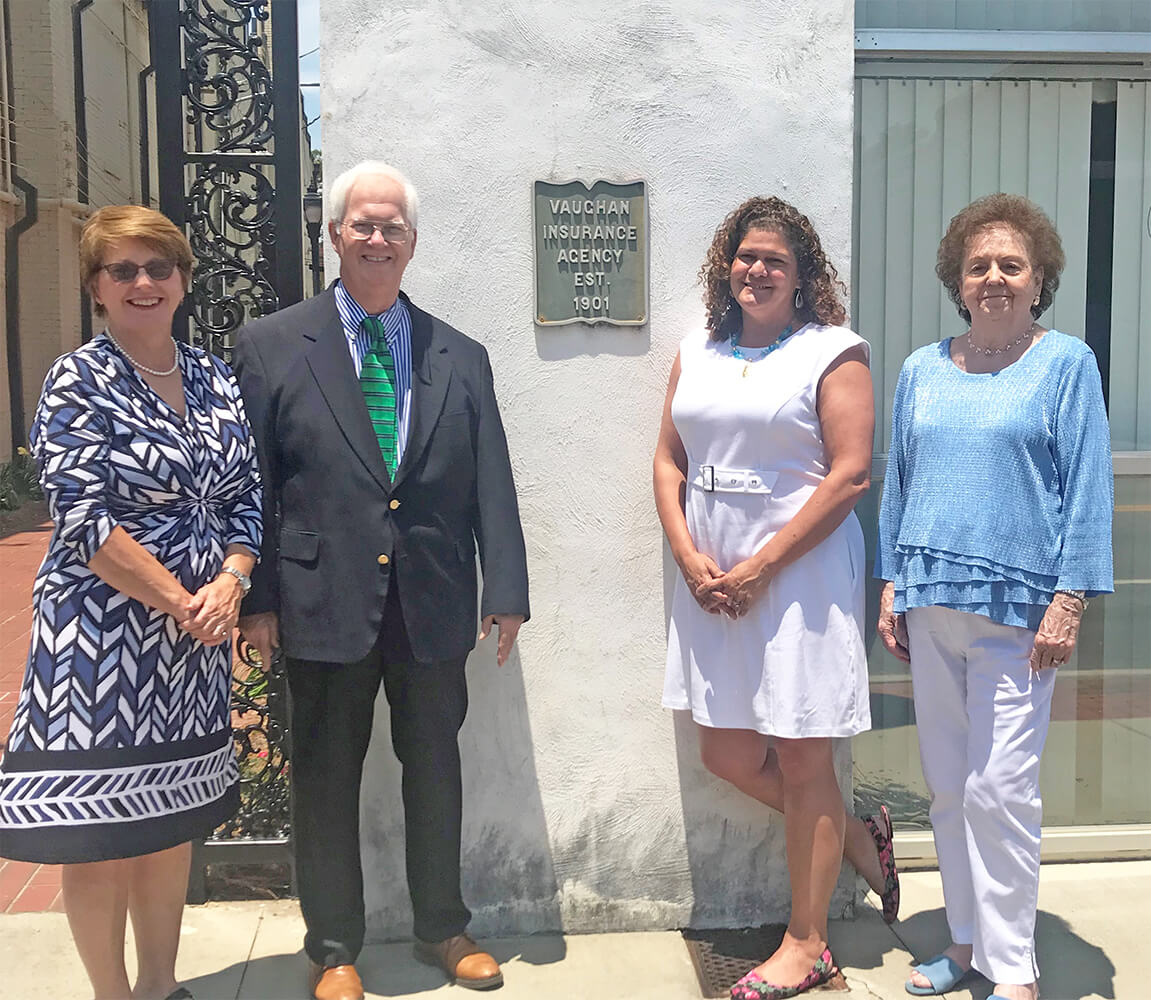 Featured in Image (L-R):  Donna, Eugene, Margaret, Barbara
Our tradition of excellence has been going strong for over 100 years and we are committed to keeping that commitment to you for many more years to come.
Our History
Vaughan Insurance Agency founder, Mr. Eugene Vaughan, was born in 1869.  The Vaughan family owned farm property on the outskirts of the Darlington County line, near Timmonsville.  But farming wasn't Eugene's path.  He was an intelligent, business-minded gentleman with lots of know-how and possessed a deep desire to do good and learn.  In 1890, Eugene married his sweetheart, Miss Minnie Briggs of Summerton.  Shortly thereafter, they moved to Darlington where he became City Clerk.  As City Clerk, he managed all aspects of the town, under leadership of the Mayor.  He later became Councilman then Mayor, where his ambitions for the town led him to discover and collect unpaid city taxes.  This brought in much needed money for the town to prosper.
In 1901, Eugene was led to open Vaughan Insurance Agency.  It was then that the town had a reputable agent for purchasing Fire Insurance for their homes.  His intelligence and desire to do for others helped him become one of the town's dependable and trustworthy insurance providers.  In 1928, the banks failed, and Americans were left with what they had in their wallets basically to survive.  Thoughts of the agency also failing worried Eugene, but he still prevailed.  Son Claude Abram Vaughan was off at the Citadel pursuing his education at this time, and at age 19 in 1928, left to come home and run the business after his father's untimely death.  In 1935, the building on Cashua Street was purchased.
In 1943, Claude pursued the military and boarded a Naval ship taking him to South America.  While he ventured Peru, the Galapagos Islands and other Spanish ports, his dear wife Olin Cutts Vaughan ran the business.  She was a good business woman and did a fine job until 1945 when he returned.
Through the years, services such as Life Insurance and Home Owners insurance were added, when there became such a thing. And then later came more personalized services like Commercial Insurance, providing businesses with much needed protections.
Claude and Olin's son Claude, Jr. pursued his higher learning at Presbyterian College, graduating in 1960.  After serving in the United States Army for 2 years, he came back to Darlington and joined Vaughan Insurance Agency alongside his father.
Son Eugene Vaughan went off to college, obtaining his Bachelor's of Science degree from Presbyterian College in 1971.  In 1973, he was awarded his Master's in Business Administration degree from the University of South Carolina.
After graduating from USC, Eugene then went on to the new-found technology biz, selling computers for a few years in North Carolina.  It was there in North Carolina that he met his future wife, Miss Pamela Bullard.  In 1979, Claude Abram Vaughan, was reaching retirement age, pondering the future of his family business.  He proposed Eugene return to Darlington to join the family's insurance business.  Here was Eugene, at the start of computer technology, dating the love of his life, not really thinking his future would be in insurance.  But Eugene agreed, and returned to Darlington.  Father Claude and brother Claude, Jr. taught Eugene everything he needed to know about running the business, and soon Eugene was an agent and a valuable part of the team with his brother Claude, Jr.  In 1981, Eugene and Pamela were married.  Pamela was a school teacher, so she continued in her successes, later becoming a school administrator in Darlington County.
The three Vaughan men ran the agency, along with a few support staff, for the next 15 years.  In 1996, Father Claude Vaughan passed away and shortly thereafter did Son, Claude Vaughan, Jr.  This left Eugene the sole proprietor of Vaughan Insurance Agency.  Dear agents and friends like George Dargan have come and gone through the agency, yet Eugene still runs the family-owned business to this day; in the same white building on Cashua Street, providing the same great personal touch the family always has.  Vaughan Insurance Agency has always been family-owned with a staff that is just like family.
You can come visit the office and see original insurance documents dating back to the late 1800's and listen to Eugene tell the tales of years gone by.  The Vaughan Insurance Agency has been through the great depression and suffered many losses, yet to this day and for many years to come will be here serving the public and ensuring that everyone gets the same family-oriented treatment that the agency was founded with.
Trusted Choice Agents
Quality Service, Top Performance
As Trusted Choice Agents, we pledge to assure quality service, top performance and offer competitive pricing with a broad range of products.
Advanced Training & Awards
We are proud of our Agents!
Eugene holds an Accredited Advisor in Insurance Degree.

Donna is a Certified Insurance Service Representative.

Allstate has recognized Vaughan Insurance Agency as a Distinguished Agency in South Carolina & Leading Sales Agency for many years.


Rated Top 100 Allstate Agencies in US in 2015.